Technitium MAC Address Changer v6.0.7 is now available for direct download and via Automatic Update. You can download the latest version release from this direct download link or via this official torrent.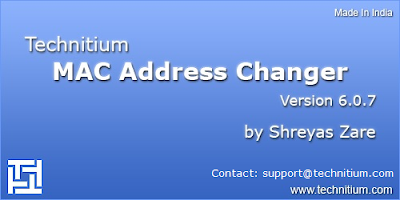 Technitium MAC Address Changer
The software will check for update automatically as per a fixed schedule. If you want the update before the automatic update triggers, just start the software, click on Help > Check For Software Updates menu to get it done instantly.
This update fixes following issues:

OUI file update from IEEE.ORG fixed by updating file parser due to changes in the published file format.
Fixes error handling while reading IPv4 information.
Fixes some UI components that were getting distorted for some users.
You can read help topics for getting answers to common queries.
For any queries or issues related to this release, just post a comment below. You can also send screenshots of the software to support@technitium.com for feedback.