Bit Chat
is an open source, instant messenger, base on peer-to-peer technology that allows people to chat with each other by directly connecting via a secure TCP based protocol without any 3rd party server in between. The TCP based protocol implements end-to-end encryption to allow people share information securely. Due to the peer-to-peer nature of connectivity, it becomes necessary to have some sort of method to identify and verify the person you are chatting with.
For this reason, Bit Chat uses a profile certificate (a digital certificate) which is issued to each user after email address verification. This allows peers to be identified by their email address.
The profile certificate is exchanged with each peer that you chat with. It contains all the details that you enter during the registration process and hence its recommended that you keep your information brief enough to allow other users to identify you.
Profile Registration
Profile registration is a one time process that you need to do for using Bit Chat. On starting Bit Chat for first time, you will get a welcome screen. Click on the
Register Now!
button to proceed with registration.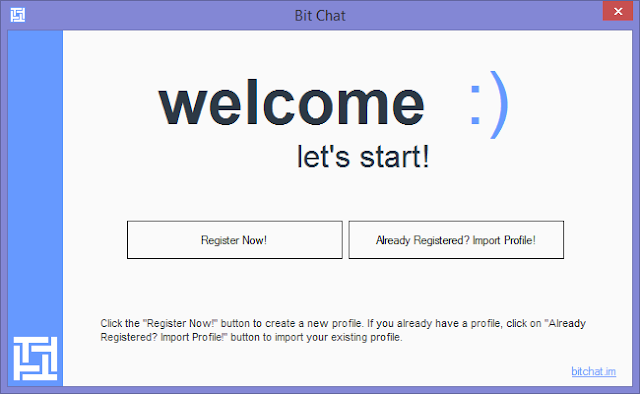 Bit Chat Welcome Screen
If you already have registered a profile and want to use it on another computer, you can export the profile file from existing computer and import it using the import profile option in the welcome screen.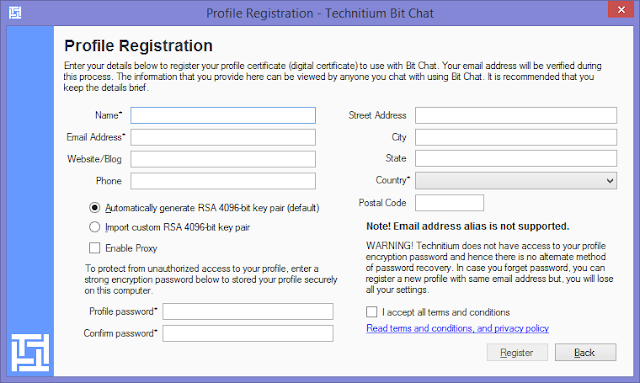 Bit Chat Profile Registration
Once you proceed with new registration, you will get a
Profile Registration
window shown above. Enter your details in brief so that your peers can identify you. As mentioned earlier, all the information provided in this registration form will be visible to your peers. Your name, email address and country details are required fields and you can choose to leave all other fields empty.
You must not use email address alias for registration since, confirming your email address requires you to be able to reply to the confirmation email with the same email address provided during registration. Any mismatch in the 'From:' email address will not be considered for email verification.
You may wish to hide your IP address during registration by using the
Enable Proxy
option which can be configured to use any available Http or Socks 5 proxy server
including Tor
. Alternatively, you can also use any of the anonymous VPN services.
The profile registration process generates a RSA 4096 bit key pair which is used for generating and verifying digital certificate. The key can be automatically generated by Bit Chat or alternatively you can use tools like openssl to generate a key in PEM format and import it using the
Import custom RSA 4096-bit key pair
option.
The profile data is stored on your computer as a separate file. Since this file contains your RSA private key and your registration details it becomes important to store it securely. To protect the profile data it is encrypted by AES-256 encryption using a profile password. This profile password is not stored anywhere and cannot be recovered in case you forget it. It is important to use a strong password/passphrase and memorize it. In case of forgetting this password, you will have to register a new profile using the same email address.
Once you have completed filling all the necessary information, accept the terms and conditions after reading it and click on the
Register
button to proceed. It may take a while for the registration to complete since there might be a delay due to generation of RSA key pair on your computer. Once the registration request is submitted to the server, you will get an email for verification.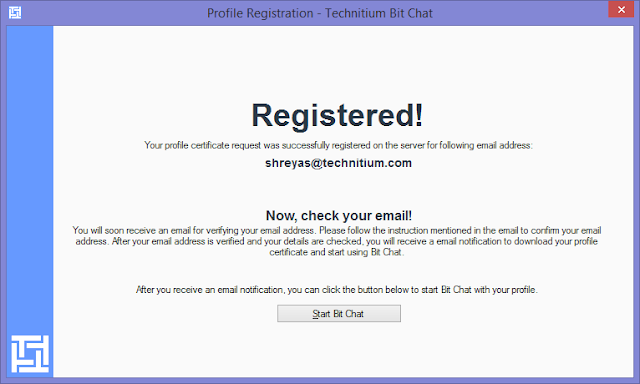 Bit Chat Profile Registration
The profile certificate is issued by the server upon email verification. To verify your email address, you need to reply to the verification email that you have received without changing the subject. You don't need to write anything in the email itself for this step. You should make sure that when you reply to this verification email, your From email address must match with the one provided during the registration. Using email address alias wont work for verification.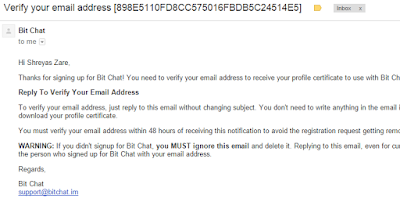 Bit Chat Verification Email
The email verification process takes a minute or two and you will receive a final email notification which completes the registration process. Upon receiving this notification email, you can click
Start Bit Chat
button in the registration window to proceed using Bit Chat.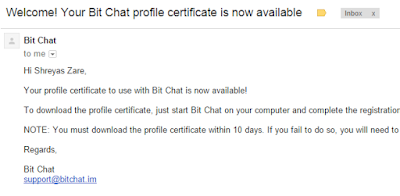 Bit Chat Notification Email
You can view your profile certificate by clicking on your name that appears in the top left corner of the Bit Chat main window. The profile certificate looks like the one shown in the image below. The fields in green indicate that those were verified by the certificate issuer before signing it. In your case, the email address will be green indicating that it was verified successfully by the issuer. You can explore more technical information in the
Details
tab of the certificate viewer.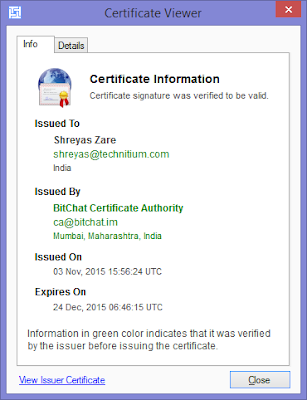 Bit Chat Profile Certificate Viewer
You can now create new group chat or private chat and ask your friends to join you on Bit Chat. Bit Chat does not have any option to directly send a contact request to your friends since we do not wish to know to whom you chat with. You can invite your friends by sending them details by email or via another instant messenger.
For any queries leave a comment below or send an email to
support@bitchat.im
.